Event Overview
In partnership with Greater East End Management District, all five platoons will help revitalize Dawson Lunnon Cemetery, located at 5737 Kemp Street, Houston, TX 77023, located near Polk and S. Wayside. In August 2009, the Texas Historical Commission certified Dawson Lunnon Cemetery as a Historic Texas Cemetery. Buried there, David Edwards, who was born on May 29, 1896 in Galveston and died on July 3, 1950. Mr. David Edwards was an African American who joined the US Army on April 1, 1918 as a Private First Class with the 24th Engineering Company. He served in WWI from June 30, 1918 to July 10, 1919. He was honorably discharged on July 28, 1919. The goals for the project are: 1. Mulching 2. Adding steps to the bayou banks 3. Removing debris from the bayou banks 4. Preventing further erosion 5. Adding benches throughout the cemetery 6. Pruning trees 7. Adding trash cans 8. Removing a tree Here are some interesting links on the history of the cemetery: Dawson Lunnon Cemetery: The Future is Nothing Without The Past – article Find A Grave site – pictures Harris County Historical Commission – Cemetery Preservation
What To Wear
Clothes that can get dirty, closed toe shoes that you can get dirty. A TMC shirt will be provided to you at registration if you do not already have one.
Parking Information
A vacant lot a few feet from the site on Kemp Street.
Operation East End Empowerment
Event Contact: Monique Rodriguez
mrodriguez@combinedarms.us
(832) 275-9710
Impact Stories from the Field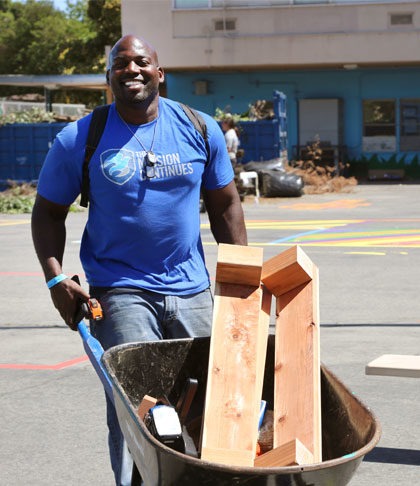 Support our Work in Communities Across the Country
Your donation goes a long way into ensuring that veterans are able to connect with others and make an impact in their home communities.