Event Overview
Rainier Beach is known as one of the most diverse communities in America. It is rich in culture and history, and is an amazing community…but it needs your help. A lack of attention has left this vibrant neighborhood run down, and in need of attention…that's where we come in. What are we looking at? We're going to be tackling a long-neglected pathway just across the street from the High School, and re-visiting a previous project for an upgrade to our prior work. We will assist with curbside cleanup, graffiti removal, painting, weeding, and mulching. While we're at it, we'll swing a few hammers, and fire up the saws. There will be projects for all, as we aim to restore this well-used path (a main route for kids heading to the library after school) to it's original beauty. Why this weekend? Because it's a National Day of Service. And with that in mind, we're asking everyone to take a moment out of their weekend to help those who need it the most. Let's show everyone the power that The Mission Continues brings to the table. Lunch? No worries….we will provide lunch. Let's Bring Back The Beach!
What To Wear
Boots and clothes you don't mind getting dirty
Parking Information
Parking in SAARS parking lot – 9000 Rainier Ave S (Across from the High School Football Field)
Inclement Weather
Bring Rain Gear (just in case). After all….it is the PNW.
Event Contact: Nicholas Sullivan
ngsullivan@gmail.com
(206) 851-4844
Impact Stories from the Field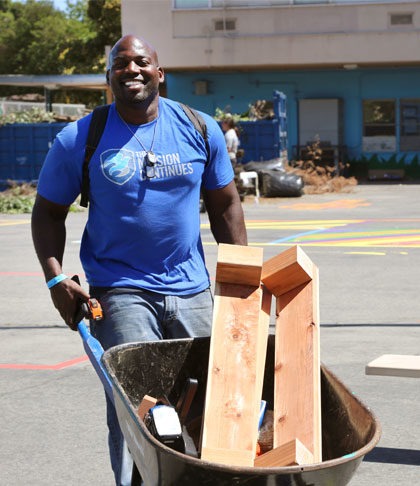 Support our Work in Communities Across the Country
Your donation goes a long way into ensuring that veterans are able to connect with others and make an impact in their home communities.