Event Overview
What better way to honor Veterans than by continuing your service by giving back to your community. Veterans day will take our mission up to Havre de Grace, MD for a Habitat build. Lunch will be provided and then join us afterwards at Tidewater Grill for appetizers! Note: Must be 16 years or older to participate. Through the work of Habitat, thousands of low-income families have found new hope in the form of affordable housing. Churches, community groups and others have joined together to successfully tackle a significant social problem―decent housing for all. Since 1976, Habitat has built or repaired over 1 million homes, serving more than 5 million people worldwide. *****I will need everyone who is building to go online and complete the volunteer registration process: : https://www.habitatsusq.org/volunteer/construction-volunteers. You will create an account, complete and sign the online safety & liability waiver, and complete the safety training. The safety training entails watching a 10 minute video and taking a short quiz afterwards. This process should take about 20 minutes. After that, you can view the construction calendar, go to November 11, and register for the "Mission Continues Group Build Day" listed on the calendar.*****
What To Wear
Closed toe shoes and your TMC shirt.
What to Bring
A friend! All tools provided by Habitat for Humanity.
Event Contact: Leslie Premo
lesliepremo@zoho.com
(410) 937-8367
Impact Stories from the Field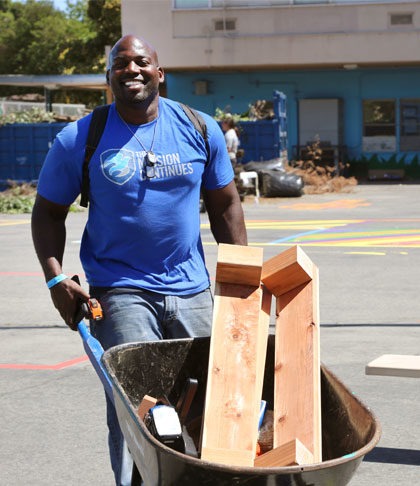 Support our Work in Communities Across the Country
Your donation goes a long way into ensuring that veterans are able to connect with others and make an impact in their home communities.