Event Overview
As a Platoon, we will have come full circle on 11/12/16. Last November, we began our first project introducing our Platoon to the Rainier Beach community by cleaning up these same pathways, while having fun. During our past year in the Community, we have supported the businesses along Rose St and the Ethiopian Community Center through cleanup, the Rainier Beach Urban Garden, Rainier Beach High School, and these important Pathways the students use to get to and from the Library and High School. We will assist with curbside cleanup, graffiti removal, painting, weeding, and mulching. While we're at it, we'll swing a few hammers, and fire up the saws. There will be projects for all, as we aim to restore this well-used path (a main route for kids heading to the library after school) to it's original beauty. Lunch? No worries….we will provide lunch. Why this weekend? Because it's Veterans Day Weekend and we are #ReportingForDuty. Let's show everyone the power that The Mission Continues brings to the table.
What To Wear
Boots and clothes you don't mind getting dirty
Parking Information
Parking in SAARS parking lot – 9000 Rainier Ave S (Across from the High School Football Field)
Inclement Weather
Bring Rain Gear (just in case). After all….it is the PNW.
Event Contact: Nicholas Sullivan
ngsullivan@gmail.com
(206) 851-4844
Impact Stories from the Field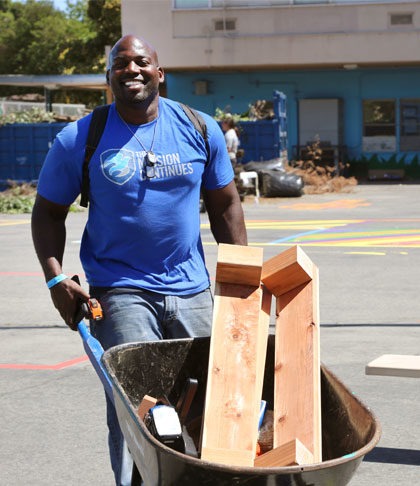 Support our Work in Communities Across the Country
Your donation goes a long way into ensuring that veterans are able to connect with others and make an impact in their home communities.