Event Overview

Join the DFW platoon as we kick off The Mission Continues' national service campaign, Operation Enduring Service, in memory of the 20th anniversary of September 11th.
We will be serving at VOA Texas Riverside Substance Abuse and Treatment Facility.
We will be painting, pressure washing, building benches, building picnic tables, and creating a walking path. Below is some background on the VOA Texas Riverside Substance Abuse and Treatment Facility.
The VOA Texas Riverside Substance Abuse and Treatment facility provides assistance for up to 103 veterans. Generally they have 50 males, 50 females and 3 beds for emergencies. Most are there for 60 – 90 day programs although they do sometimes have some for the shorter 30 day program.
The clients at the Riverside facility are veterans that are referred by the Texas Department of Criminal Justice. Some as part of their sentence, some for reentry and others to avoid jail time. It is a 24 hour a day facility and the clients live on the property. They have chores, counseling, work and reentry programs. Some of their facilities are halfway houses for veterans and some are senior housing.
This treatment and recovery program addresses not only the addiction itself, but also issues like poverty, homelessness and abuse that arise from chemical dependency.
What To Wear
TMC blues;Clothes that can get dirty;Warm weather gear
What to Bring
TMC Gear. If you do not have a TMC shirt, you will receive one at registration.
Accessibility
Wheelchair accessible site and bathrooms;Handicap Parking available;Jobs available for persons with limited mobility
Who's Invited
Groups;Kids (under 13);Teens;Adults (21+);Seniors (55+)
Event Contact: Angel Carter
acarter@missioncontinues.org
(817) 437-1560
Impact Stories from the Field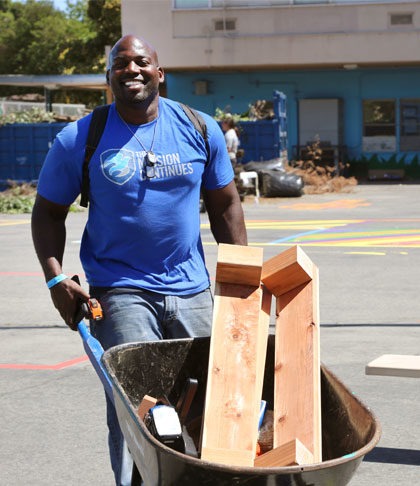 Support our Work in Communities Across the Country
Your donation goes a long way into ensuring that veterans are able to connect with others and make an impact in their home communities.