Event Overview
Trinity Cafe has been one of our long standing community partners. Due to the Pandemic they are unable to provide the same type of service they were previously offering. They, like many others have changed the way they operate, to ensure our communities are cared for. Join us in assembling frozen food in preparation for meal services. Here is more information about the the event and Trinity Cafe. The evolution of Trinity Cafe. Founded in 2001, Trinity Cafe has served more than 1.5 million meals with dignity, compassion, love and respect. Its traditional restaurant-style model provided an average of 500 meals to the community each day, but a desire to do even more surfaced. The hunger landscape seemed to be changing rapidly, with more people in need of food assistance than ever before. As leaders in the hunger relief realm, Feeding Tampa Bay and Trinity Cafe began talks on how to join forces to make a bigger impact. Dedicated to alleviating the issue of hunger, Feeding Tampa Bay and Trinity Cafe merged in January of 2019. As a program of Feeding Tampa Bay, Trinity Cafe has begun the exciting transition to becoming a "Community Empowerment Center" – creating full service, hunger relief solutions that begin around the table. Guests enjoy a hot, plated meal around the table, but now have access to prepared to-go meals, client choice food pantries, fresh produce pantries, and SNAP registration assistance. Trinity Cafe's model and kitchen will be the centerpiece of expansion across Feeding Tampa Bay's 10-county service area. Together, our goal is to provide meals for today, meals for tomorrow, and meals for a lifetime. In light of recommendations from the CDC and federal administration to limit the number of people gathering in one area, Trinity Cafe has transitioned to a to-go model at this time. Anyone in need of a meal can stop by Trinity Cafe locations to collect up to 4 to-go meals for the week. -Minimum age to volunteer at Trinity Cafe is 16 years old. Here are some important reminders to help you best prepare for your time with us: – You will be volunteering at Trinity Cafe, a program of Feeding Tampa Bay, at 2801 N. Nebraska Ave., Tampa FL 33602. – Cancellation: If you must cancel for any reason, sign into your account and simply cancel your shift. If you need to cancel a group of 5 or more, please email us at volunteer@feedingtampabay.org or call 813.865.4823. It is important to cancel shifts ASAP, so we can fill your space. We rely on volunteers to operate efficiently. – Community service hours accepted for school/work requirements ONLY. You must bring a form with the school/work logo on it to be signed the day you volunteer. The daily volunteer coordinator or a cafe staff member are authorized to sign. – We are NOT ABLE to accept court-mandated hours at the Trinity Cafe locations. If you have any questions prior to your volunteer session or need any special accommodations, please do not hesitate to contact our Volunteer Services Team at volunteer@feedingtampabay.org
What To Wear
Blue TMC shirt -Closed-toe shoes are required and recommend tennis shoes. Absolutely no sandals, flip-flops, or open-toe shoes! – Halter tops, tank tops, and similar beach type attire are not appropriate. Modest length shorts are fine.
Parking Information
– Parking: Turn into the parking lot from Nebraska Ave. and park in any available space. The "volunteer entrance" to the cafe is at the back of the building. Enter the double doors next to the generator; this takes you directly into the kitchen. You will be directed to the dining room. If our main parking lot is full (please do not double park), you may park across the street at the Family Dollar Store providing you do NOT use the parking lot in front of the entrance; you may park on the side.
Event Contact: jeaniel image
imagejination83@gmail.com
(813) 506-4612
Impact Stories from the Field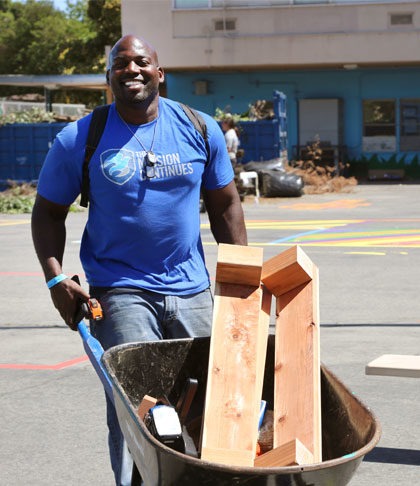 Support our Work in Communities Across the Country
Your donation goes a long way into ensuring that veterans are able to connect with others and make an impact in their home communities.