Event Overview
Join the Queens Platoon as we partner up with Coastal Prevention Network to clear up debris on the beach on the west end of 28th Ave and the East River in College Point, Queens. This will be the first time we've ever worked on this particular beach , so it would be wonderful if we can help out and claim it as "Veterans' Beach"! It's a cool location – directly across from LaGuardia Airport. The plan was to get the beach cleaned up and opened before Memorial Day weekend, but ya know…..the whole COVID thing happened and it turned to a pandemic….so we had to put this event on pause. Now that things are slowly getting better, we figured it be a good time before it gets too cold out to make the most of the good weather and clean it up and possibly, work on the stairs that lead to the beach (since they could really use a face lift) . One of the biggest benefits of us tackling this project is that the people in the College Point community can enjoy what is left of the summer at a beach in their own backyard! Another benefit is that we would be providing another area for research and giving young adults/children opportunities to learn more about marine wildlife . How to get there: For those who are driving: The closest address is 119-06 28th Ave (or google Met Metals) . The beach is straight past the dead end sign. If you are taking public transportation: take the 7 train or LIRR to Flushing-Main St and catch the Q65 bus to College Point Blvd/NYPD Academy Entrance (which is a 10-15 min ride from the train station), then walk down 28th ave to the end of the road. From there, you should see the beach area. If anyone needs a lift, let me know ahead of time. I don't mind giving y'all a ride from the train station to the site and back if anything.
What To Wear
Clothes you don't mind getting dirty in
Parking Information
Street Parking is avaliable
Inclement Weather
In the event that it rains on the day of the event, we will postpone to October 3rd.
Event Contact: Daquane Mays
dmays@missioncontinues.org
(347) 344-7929
Impact Stories from the Field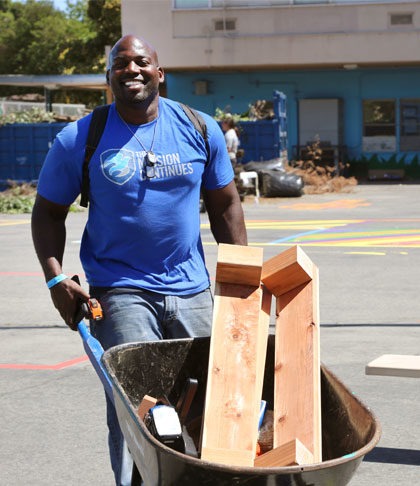 Support our Work in Communities Across the Country
Your donation goes a long way into ensuring that veterans are able to connect with others and make an impact in their home communities.