Event Overview
Hello Friends, We hope this email finds you well and that you enjoyed the holiday season!! As we continue to move forward into the new year, it is time to reconnect and support our community and the local organizations within. With that being said, our annual Martin Luther King Jr. National Day of service campaign, is right around the corner! It is a day for us to honor those who fought and continue to fight for equality, and justice in our everyday lives, both in and out of uniform. Join us for a day of service with the Virginia Peninsula Foodbank. We will be working with one goal in mind, and that is, to continue to work together to create a brighter future for our community. #legacyofservice Event Details: ** We will be helping to sort out food, organize the foodbank, and pack boxes/book-bags for those in need. DATE: 01/25/2020 TIME: 9:00am - 12:30pm LOCATION: Virginia Peninsula Foodbank 2401 Aluminum Avenue Hampton,VA 23661 See you soon!
What to Bring
Yourself, family, friends, and a positive attitude: )
Parking
Parking is available on site.
Inclement Weather
The event will take place indoors. If we are due to experience ice, or sleet, the MLK National Day of Service will be rescheduled.
Hampton Roads Platoon
Event Contact: LaToya Westbrook
lwestbrook@missioncontinues.org
(718) 509-7212
Impact Stories from the Field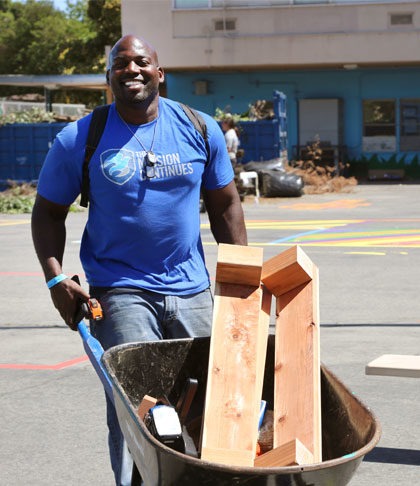 Support our Work in Communities Across the Country
Your donation goes a long way into ensuring that veterans are able to connect with others and make an impact in their home communities.