Event Overview
Join us for the annual Martin Luther King, Jr. March, Monday, January 20, 2020. Platoon Leader, Sandra Davis will lead San Antonio Platoon Members in the march to not only celebrate the legacy of MLK but to also raise awareness in the community about what our platoons are doing in the city. The March is 2.75 miles and starts at the Martin Luther King, Jr. Academy, travels up Martin Luther King Drive, and ends at Pittman Sullivan Park, all on the City's historic East Side. To maintain the spirit of the March and for the safety of participants, motorcycles, cars and other motor vehicles are not allowed in the March procession. Begin at 10:00 a.m. at the MLK Academy located at 3501 MLK Drive . End at Pittman-Sullivan Park, 1101 Iowa SanAntonio, TX 78202.
What To Wear
TMC Shirt and walking tennis shoes
What to Bring
Please bring water for this 2.7 miles march Jacket or Coat for cold weather Friends and Family
Parking
Attendees with VIP parking passes may park at either the Davis Scott YMCA Parking Lot (1213 Iowa St, San Antonio, TX 78203) or the St. Gerard Catholic High School parking lot. (521 S New Braunfels Ave, San Antonio, TX 78203). See map for exact locations. Please place your official 2019 MLK VIP parking pass visibly on your dashboard. VIA Park and Ride: For more information about this bus service, call 210.362.2020 or visit www.VIAinfo.net.
Inclement Weather
Please dress accordingly if inclement weather
San Antonio 1st Service Platoon
Event Contact: Sandra Davis
sdavis@missioncontinues.org
(210) 347-3398
Impact Stories from the Field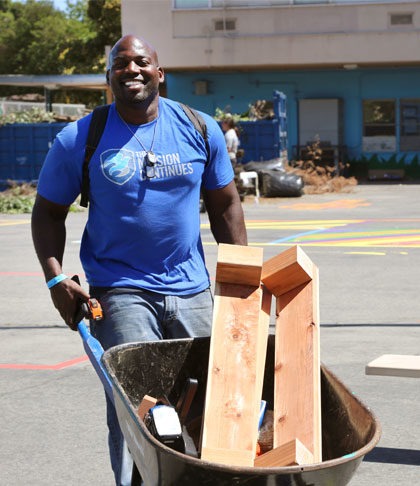 Support our Work in Communities Across the Country
Your donation goes a long way into ensuring that veterans are able to connect with others and make an impact in their home communities.