Event Overview
Come enjoy a day at the beach with Oahu's First Platoon at White Plains on the Leeward side of the island. We will be having a Potluck (completely optional) as well as Barbecue and refreshments. Bring your friends and family Activities: Volleyball, Horse shoes, swimming, surfing, SUP (*White plains beach has an MWR facility with surfboards to rent at an hour and paddle boards at an hour. Additionally, they have lockers and bathrooms)
What To Wear
-Beach attire -Mission continues shirt for group photo -Water shoes (*white plains has sand but the water is very rocky)
What to Bring
-Friends and family -A side dish for Potluck (Optional) -Beach towels -Beach bag -Surf boards, paddle boards etc.
Parking
Free parking in attached lot
Inclement Weather
-We have a Pavilion and tent for the group to get some shade or get out of the rain if a shower passes through. Ocean conditions at white plains are very mild even in inclement weather. If ocean conditions are not permitting, we can still enjoy the beach.
Oahu Platoon
Event Contact: Erik Castaldo
ecastaldo@missioncontinues.org
(808) 724-2005
Impact Stories from the Field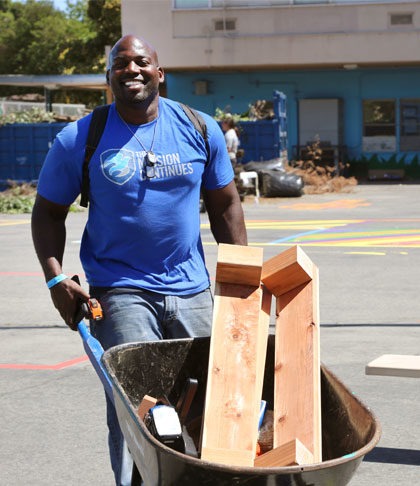 Support our Work in Communities Across the Country
Your donation goes a long way into ensuring that veterans are able to connect with others and make an impact in their home communities.