Event Overview
The Mission Continues 3rd Platoon stands with the Jewish Community. After the terrible attack on the Tree of Life Synagogue, the Jewish community in Pittsburgh is calling for unity, and opening their doors to the entire community this Saturday for Shabbat services. There are services at 9:30 am at Beth Shalom, and 10:30 at Rodef Shalom. TMC will support both. We will meet to organize at the Smallman Street Deli, discuss our mission, and form a plan for how best to support the community at each site. We have been asked to be on call to help with presence, but all that wish to attend the services are encouraged to do so. Those who do not will remain outside to increase the presence of allies and to demonstrate the strength of the bonds between the veteran and Jewish community. Signs of support and love are encouraged, but must be free of any political messaging, and in good taste. Our power is our unity, and our mission is to heal and protect. Please tailor all messages to this goal.
What To Wear
Mission Continues shirts and gear, and comfortable shoes for walking or standing.
What to Bring
A big heart and signs of support and love.
Parking
There is limited street parking available at both sites, so we will ask you to park near the Smallman Street Deli and carpool from there as much as possible.
Pittsburgh 3rd Service Platoon
Event Contact: Matthew Landis
j.matthew.landis@gmail.com
(412) 925-4529
Impact Stories from the Field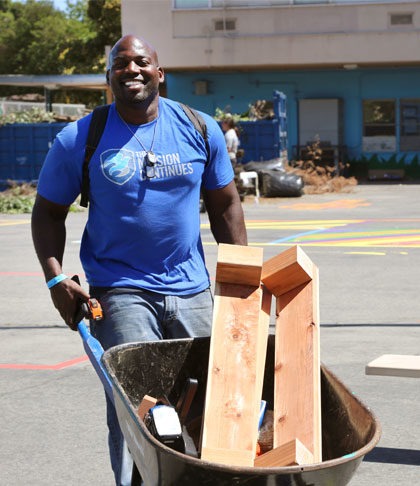 Support our Work in Communities Across the Country
Your donation goes a long way into ensuring that veterans are able to connect with others and make an impact in their home communities.